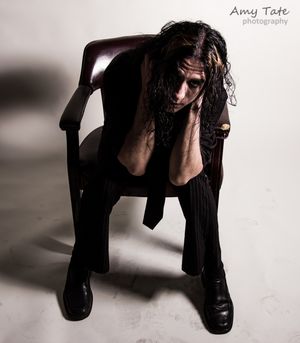 transRelic is an Alternative Hard Rock/Metal Band based out of Dallas, Texas. The band is headed by the multi-instrumentalist and primary song writer, Stark Morrison. The music takes on a very bi-polar aesthetic moving through heavy and soft passages, at times even diverging the two dynamics in the many layers of instrumentation that tends to be a cornerstone element of transRelic's sound. This very ambitious approach to songwriting also leads transRelic to borrowing from a plethora of musical influences such as doom, industrial, nu-metal, prog, post metal, grunge, gothic, and even black metal. All of these elements come together with thematic progressive song form that ends up sounding much like the score to an intense psychological thriller. Morrison underlines the changes of emotional dynamics by utilizing both haunting clean vocals as well as distressed screams and growls that could make a teen's mothers skin crawl. The lyrics delve unapologetically into themes of self-destruction, loss, and religious distaste yet somehow manages to pin an undertone of hope and empowerment into the fabric of the lyrical storylines.  
Morrison teamed up with his live drummer Justin Bannister to track the follow up for transRelic's previous release, "declined." The single "Splinters," marks a much more aggressive and heavy approach than their past three releases as well as a an increased production value. Splinters was mixed in the the world class Side 3 Studios in Denver, Colorado by long time friend Andy Fleebe (Ed Sheeran, Macklemore, Lil' Wayne) and Mastered by Grammy winning Mastering Engineer "Big Bass" Brian Garnner (Outkast, David Bowie, Suicidal Tendencies) The single also includes a salute to the Thrash Metal Godfathers Slayer in a Dead Skin Mask and South of Heaven Medley, transRelic's way of tributing their undeniable influence as the band approaches their retirement. Splinters is currently scheduled for release late 2018 to early 2019. Morrison is compiling a full live lineup to support the release of Splinters as well as beginning starting production on several performance videos and a official video for the song Splinters. 
Founding member and the sole consistent member of transRelic, Stark Morrison isn't new to the music industry as a whole, Morrison has worked in concert production as a professional Live Audio Engineer for 8 years and has had worked in a lot of DFW's Premier Venues (Gexa Energy Pavilion, Trees, Ridglea Theater) working with bands ranging from international touring artists to DFW locals. When not writing for transRelic, Morrison also hones his writing abilities and composing custom scores for films, trailers and video games. This allows him the chance to write in a large range of styles outside of the transRelic soundscape including writing full orchestral arrangements. 
Currently, transRelic  has concluded the tracking of the fifth studio release. The six song EP "Demons," is entering the post production stages, the release date is yet to be confirmed. Morrison is auditioning live band members and is planning not only to do electric shows, but also include bookings of acoustic sets with the live band including piano and string quartet accompaniment. Along with the release of Splinters and live bookings the band is also planning "a lot of video media," in the immediate future.